What´s new at sinneslustwandel - siluwa?
Sendebeitrag Welle M1
Interview
There is a tiny little audio share of an interview about the start of siluwa at Welle M1.
If you like it or want to hear more you are welcome to ask the broadcasting people for a full length version (~38 min). The interview was held in German.
About Welle M1
Welle M1 is an independent broadcasting station providing interessting audio stories, news and weekly comments about culture, art, architecture, royals and much more.
Have a look and find out yourself!
Charity project for Nepal 2015 - polyester performance shirt
the new shirt design from siluwa was done in association with members of the Nepalese students´ society TU Berlin. the return of that particular shirt sale will be donated helping the students to support their earthquake related projects.
the shirt (sport polyester performance shirts, white) costs 25 € and you can order it via the "kontakt" sheet. please state the keywords "Nepal 2015", your name, sex, size, amount and shipping address and you will receive an invoice with the bank details. after receiving the money the shirt production and shipping follows demand. needless to say that shipping costs go on top. depending on your order and where you live shipping it costs approximately 5 € (e.g. for single shirt shipping).
Best L.N. from your siluwa team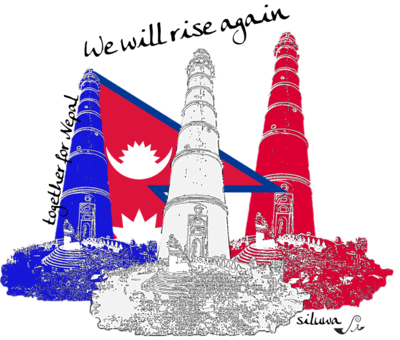 Siluwa thanks the organisers from Art-Stalker and Postbahnhof for that excellent exhibiton (B.AGL) and art event. Additional credits should go to the different bands and singer- song writers and last but not least to all food and drink suppliers, such as Hendricks. You kept all of us alive and running!
I met quite some nice people!
1st Kaenguruh-Open
siluwa performance shirts at work
siluwa at first Kaenguruh-Open 21.04.2015 - 26.04.2015
siluwa bei Art-Stalker
Hi!
Bilder von Siluwa jetzt auch bei Art-Stalker. Schaut mal rum für ein Konzert, eine Lesung oder einfach nur um Bilder anzuschauen und einen Drink zu nehmen.
Unter art-stalker.de oder unter art-stalker bei facebook findet ihr mehr Infos und könnt die Kunst auch online kaufen.
Liebe Grüße,
LN
Am 09.10.2014 gab die Designmeile im Stilwerk Berlin ihren Auftakt. sinneslustwandel stellte seine art micro Bilder im Leolux (check out FB) aus. Weitere Attraktionen waren das DJ Team Hushush und die Bilder von Ben Hammer. Ein Trostpflaster für alle, die es nicht geschafft haben - die Designmeil geht noch bis Sonntag. Also, auf geht´s!
Bilder von Sinneslustwandel (siluwa) 2014© sind jetzt auch bei Leolux im Stilwerk zu sehen.
Seit dieser Woche sind Arbeiten von Sinneslustwandel (siluwa) 2014© am Prenzelberg im Café Blaumond zu sehen. Genießt dort in sehr netter Umgebung einfachen euren Kaffee und schaut´s sie euch live an!
Am Sa/So 05. & 06. Juli ´14 stellte Sinneslustwandel (siluwa) 2014© in Berlin die ersten Bilder auf dem Fashionmarkt der WeddingDress#9 vor.